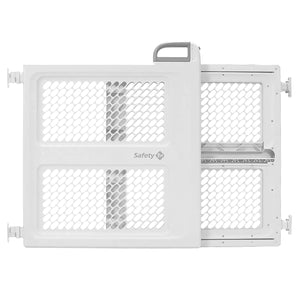 One hand, top release handle. Features a complete-control top handle that lets you lock, release, and adjust as needed

28" – 42" wide, 26" high
Works great for most doorways.  Not recommended for stairs with baseboards. For stairs we recommend the mesh gate or baby gate with door.
 Please note all of the manufacturers recommend against using pressure mount gates at the TOP of stairs.
Our drivers are not allowed to set up gates or bed rails for liability reasons.  We are happy to explain the installation process.  Placement and tension decisions need to be the guests' responsibility.